Showroomprive is a members-only, private shopping-club that offers fantastic savings on top-quality brands and products. To join, all you need do is fill in the simple registration form on the site. You will only need to provide your name and email address at first, but, if you prefer, you can sign up via Facebook. Only when you make an order do you need to enter your home address and other details.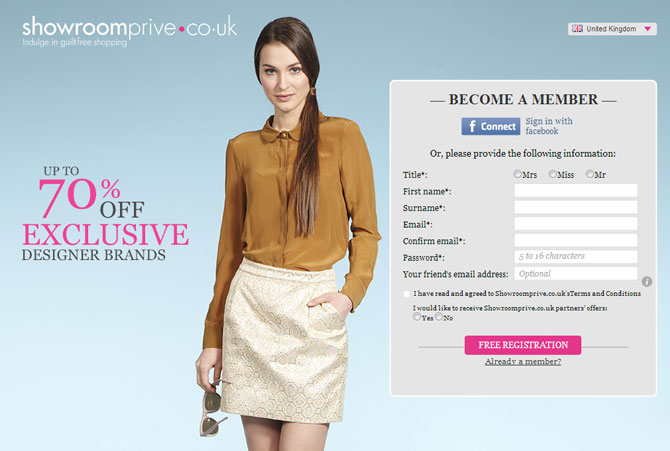 Once you have gained access to this members-only website, you will be free to browse all the great products for sale from some of the most famous brands in the world. These include Dolce and Gabbana, Diesel, Wonderbra and Pierre Cardin amongst many others. What's even more fantastic is the fact that the prices will be up to 70 per cent discounted! That represents a huge saving compared to the prices you would pay on the high street. You'll notice that the products are divided between four categories: women, men, children and homeware so you won't have any problem quickly finding the products you require.
Wide Range of Products
At any one time there are hundreds of products to chose from on showroomprive. Indeed, as one of the new wave of shopping clubs, showroomprive specialises in offering high-end clothing and accessories that are perfect for any occasion. If you are searching for a completely new look, this private shopping-club can offer all aspects of a new outfit from head to feet. Also it's a great site for buying gifts; whether you are looking for presents for friends and family or some new, luxurious items for yourself, you will have plenty to chose from.
72 Hour Home Delivery Sales
If you want your items quickly, showroomprive is perfect in this regard too. There are often sales where the products can be dispatched on the very day you make your order and arrive safely via a 72 hour delivery service. This is a great service, since unlike many other shopping clubs who don't give a delivery date when the order is made, you will know exactly when your order will arrive and can plan accordingly.
Shop with Confidence
Any products you order on showroomprive come complete with a 14 day cancellation period, so if something isn't quite right you don't need to worry, simply return it. Whether it is because of a fault or you just don't like the look of the item, simply let the sales team know and they will be able to take care of the details. Also be aware that the website is built with security in mind, so you can shop with confidence in the knowledge that your personal details and credit card numbers are protected.
Refer a Friend
If you would like to earn some money to spend on yourself, then make sure you tell all your friends and family about showroomprive. You will be receive a £15 voucher each time you refer a person who subsequently makes a purchase with showroomprive. Before you know it, you'll be able to completely refresh your wardrobe without spending any money!
Dedicated Customer Service
Showroomprive's sales team are dedicated to answering any questions before, during and after your order is made. It is their intention to answer all questions as soon as possible. So, if you need any more information, get in touch and they will only be too happy to help.