What is the Success Story behind Secretsales Running in Huge Success in the Market?
Secretsales.com is the best branded online shopping destination which has been praised for its customer friendly attitude. The members can enjoy their discounts till 70-80% on the products that they choose. All the products are very carefully selected by the team and then put on to sale. This site has been shown in most of the best magazines named Cosmopolitan magazine, Stylist, Marie Claire and other topmost magazines. You can become their member anytime you want to.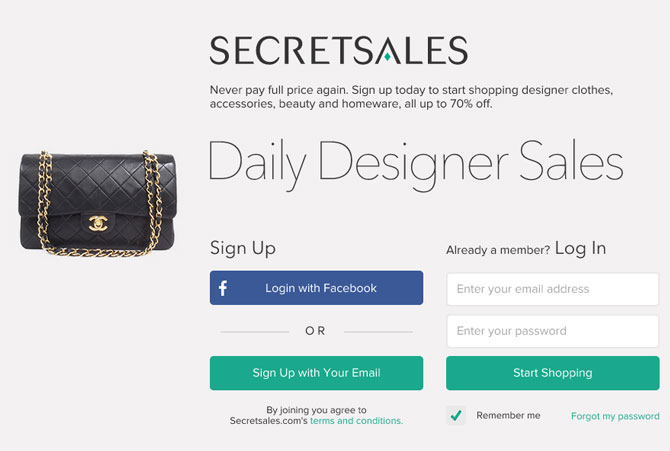 This private shopping-club destination has a wide range of luxury products in store. They include menswear, women wear, kids wear, household accessories, home decors, shoes of best brands, denims of premium range and many more. The brands that are highlighted here are: American Apparel, Apple, Baby Phat, Clinique, Gucci, Marc Jacobs, Galliano, Ben Sherman, Banana Republic, Pollo, CK, Tods, Porsche, YSL.
These are best brands for the members-only and you can shop till you drop!! For the members they have kept regular sales called flash sales which give you exclusive discounts up to 70%. They will be flashing for a few days and you can shop beforehand to ensure that you get the popular commodities faster as they are in stock and within discounts.
What does the secretsales.com blog offer you?
The site is in huge demand because they offer you blogs where you can get an insight into the shopping club. Here they provide you fashion tips from best fashionistas, guide you how you can buy gift for your beloved. They also give you a view of the behind the curtain look of how the designers work to meet up to the customer demands.
How does the customer support team work here?
The customer support unit is perhaps the most important unit for a private shopping-club. They work as:
You can mail them any queries and issues that you have.
Contact is easy as you can contact them over phone from Monday to Friday 9a.m.to 5p.m.
There is a postal address of their headquarters in Notting Hill where you can send your letters too.
This site is actively present in the social networking such as Twitter and Facebook so that communication is much easier done for the members-only here.
Commodities that are unsatisfactory to you can be returned within the stipulated time period i.e. fourteen days of your purchase. They will refund you fully.
The best part of this site is that they have email newsletters where the members have access to. These letters notify the members whenever any new sale is coming and whenever there are exclusive discounts. You can join it anytime you like after you become their member.
Secretsales.com – You can visit the shopping club in internet and have a look at their website, register there to get a 70% off on branded items of your choice.