What is making Brandalley.co.uk the Favourite Brand to the Customers?
BrandAlley.co.uk is the UK's leading private/flash-sales site with a unique offering across fashion, home, beauty and lifestyle. Customers can save up to 80% off designer brands such as UGG, Michael Kors, Orla Kiely and Stella McCartney and there are new sales added every day.
BrandAlley.co.uk – this private shopping-club is the most wanted fashion club because it provides best deals and discounts that you need. There are products of home decorations, kitchen, office and other appliances, fashion, jewellery, beauty products, luxury items, branded shoes, and many other items. There are brands that can grab your eyes and attention and make you run for the products. Brands such as French Connection, Kurt Geiger and others are most in demand.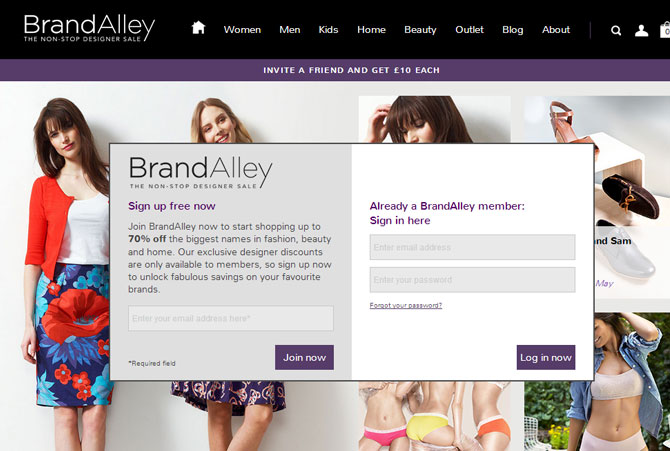 How can you join it?
It is not at all a hard process. You can join anytime you like and it is completely free. There is no risk and there is no compulsory issue that you need to buy something in order to stay there. If any member who already exists there sent you invitation to join it, then only you can join the shopping club because discounts are only given to the members.
Each day there is continuous upgradation of the commodities there. There are sales and exclusive and new interesting offers almost every day to the members of the site. The sales continue for four to five days and so you need to rush to buy the common items with attractive discounts.
They update you by:
Emailing you in free email newsletters for members-only.
The emails update you as soon as the sales and discounts come pouring in so that you do not miss it.
There are exciting offers where you can get large discounts when you recommend this site to your near ones, such as friends, relatives and your peers. If any of them and you shop from here after the person is made member, you and that person can get discount up to 20% on the items bought by you. The site offers your voucher validity in your next purchases in the shopping club.
What are the social networking sites that help you?
The social networking sites are perhaps the best to communicate between you and BrandAlley.co.uk. There are: Facebook, Twitter, MySpace, Instagram, Pinterest..
On all these sites you can see what their outlook in the market is internationally and how they are connected to the other online stores for advertising and marketing. There is competition at all the levels. You can also see what the upcoming brands are that have tied up with them and they also post videos that help you see the workshops of the boutiques from behind the screens.
The only thing for this private shopping-club is you have to remain updated with their prices and discounts. The customer support team is always at your door whenever you need their help. On any product that is not satisfactory you can easily return them for which you will be refunded. You can also mail them their queries anytime and can ask them on any issue you like to.
BrandAlley.co.uk So, now that you know how to be their members as members-only can have transactions, rush for the best deals to have 60% discount on any product you buy!!